Publication describing the role of ERRalpha in therapy resistance of esophageal cancer
We're delighted to announce the publication of results from our collaboration with Maarten Bijlsma and Hanneke van Laarhoven from Amsterdam UMC.
The results have been published in Cell Reports Medicine, a journal with high impact for cutting-edge research in translational and clinical biomedical sciences.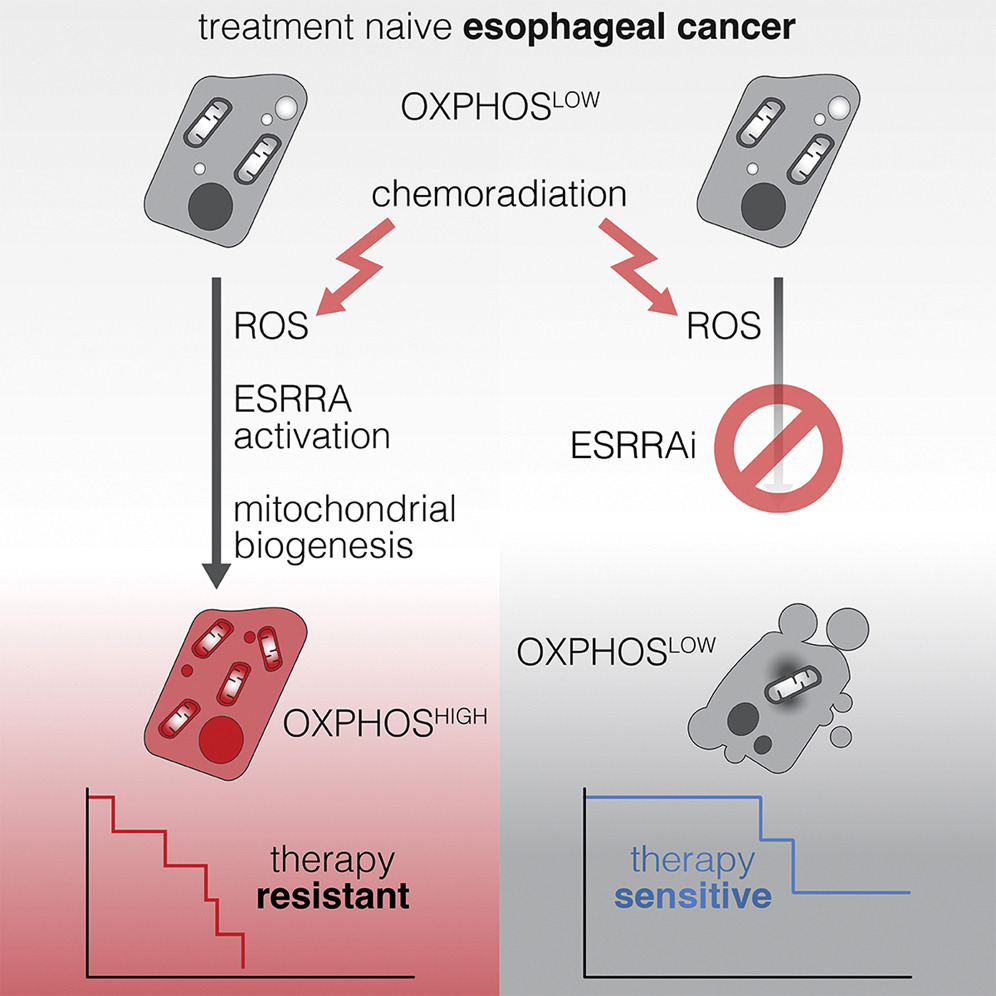 About the paper:
Esophageal cancer is the seventh most common and sixth most lethal cancer worldwide. Treatment typically consists of a combination of radiation and chemotherapy. Resistance to chemoradiation therapy develops frequently causing patients to succumb to their disease.
In the paper we show that resistance of esophageal cancers to chemoradiation is driven by the protein estrogen-related receptor alpha (ERRalpha), which is a key regulator of the biosynthesis and function of mitochondria. Consequently, adding a small molecule ERRalpha inhibitor to (chemo)radiation prevents tumors to become resistant, resulting in effective shrinking of esophageal tumors in a patient-derived preclinical model.
Impact/perspective:
Lead Pharma is developing a series of ERRalpha inhibitors. The conditional lethal interaction of ERRalpha inhibition and chemoradiation described in the paper provides a clear clinical development path for our ERRalpha inhibitor. We are generating the necessary funds to progress our candidate drug into clinical development.
Arthur Oubrie, CSO of Lead Pharma: We are excited to see the collaboration with Amsterdam UMC come to fruition and to conclude that our ERRalpha inhibitor holds great promise as anti-cancer therapy, preventing or overcoming resistance to chemoradiation in esophageal cancer.
---
About Lead Pharma:
Lead Pharma is a clinical-stage pharmaceutical research & development company. We discover, design, and develop innovative small-molecule therapies to treat autoimmune diseases and cancer. The company boasts a drug discovery engine encompassing a target identification platform using big data analysis, a versatile screening platform for identification of new small molecules with medicinal activity. Lead Pharma is also developing a multi-disciplinary translational platform to discover biomarkers and select patient cohorts.
For more information visit
Article Cell Report Medicine: https://doi.org/10.1016/j.xcrm.2022.100802
Contact
F. van den Berg MSc MBA
Chief Executive Officer
frans.vandenberg@leadpharma.com
Arthur Oubrie, PhD
Chief Scientific Officer
arthur.oubrie@leadpharma.com