Approach
Lead Pharma's strengths in innovation rely on a powerful discovery engine that is based on comprehensive in-house capabilities and an integrated suite of cutting-edge technologies.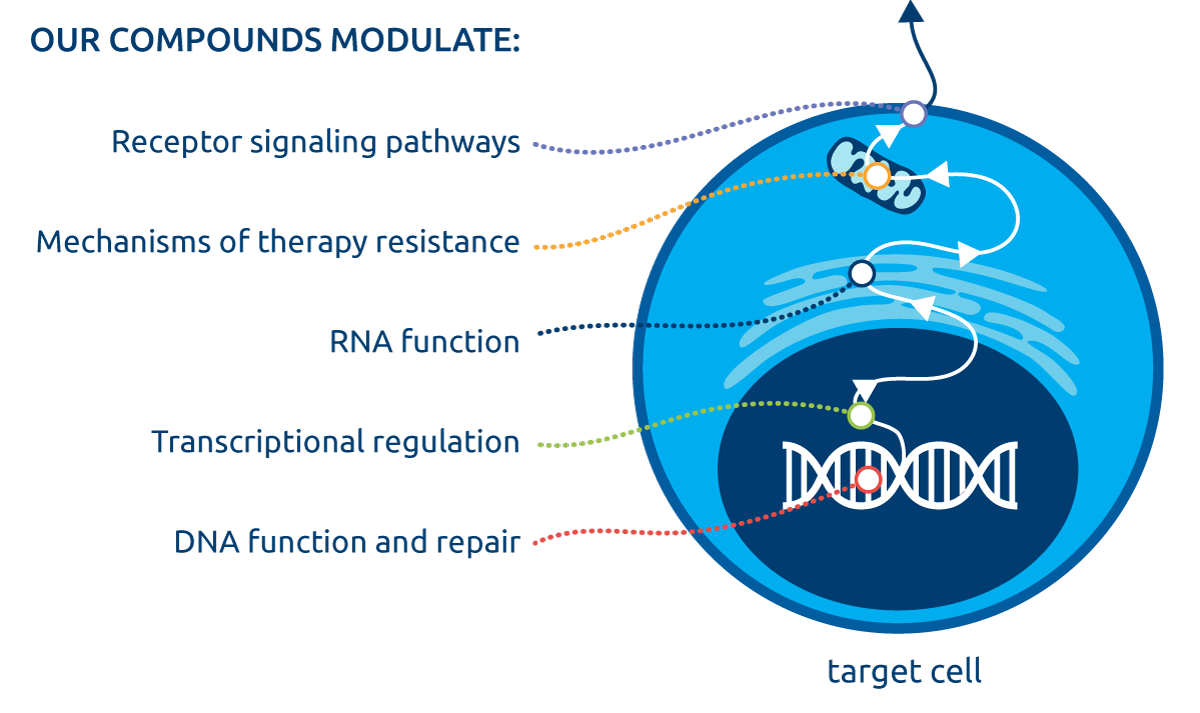 Discover
We aim to develop small-molecule drugs that have the potential to change patients' lives and address key unmet medical needs in oncology and immunology. We use a multitude of proprietary and accessible data sources – including RNA-sequencing data sets, genetic information, patient and cell line repositories – to identify new targets with disease-modifying potential. The application of stringent target identification criteria enables us to select targets with a clear biological rationale and with robust pre-clinical and genetic/clinical validation. For each target, we also assess its suitability for a small-molecule approach and identify a clear opportunity for Lead Pharma to make a difference.
Our technology platform enables the application of different hit identification strategies. We have a track record with structure-based drug design and various types of screening including fragment-based, virtual, and target family-based screening. If deemed appropriate, we make use of the nearby high-throughput screening (HTS) facility at Pivot Park.
Design
Compound optimization requires several cycles of design, synthesis, and testing. The design process involves multi-parameter optimization that uses various enabling technologies that we have either established ourselves or that we access via external contract research organizations (CROs). Relevant in-house technologies include protein sciences and assays; cellular assays and functional models; biophysics and X-ray crystallography; and structure-based and computer-aided drug design. We also have several in vitro models for absorption, distribution, metabolism, and excretion (ADME). Successful design hinges on the availability of high-quality data, accessible via data portals that provide clear overviews and compound selection tools.
Deliver
All projects we have initiated using our Discover-Design-Deliver platform have thus far generated promising lead compounds with in vivo efficacy. The two programs that are currently at the most advanced stages – RORγt and ERRα – have generated the clinical stage candidate drug SAR441169 in the case of RORγt, and a clinical selection candidate in the case of ERRα. The RORγt project has been partnered with and licensed to Sanofi.
For each project, we have identified novel small molecules with promising features and developed translational screening cascades with a full set of assays and models. For the more mature projects, we have identified biomarkers for patient selection and showing target engagement.
Ultimately, effective teamwork and the creativity and quality of our people ensure the success of our Discover-Design-Deliver approach. This has enabled us to deliver where others have failed, and to produce candidate drugs with disease-modifying potential even for targets that were considered difficult to drug.